Music Review: Chris August, "The Upside of Down"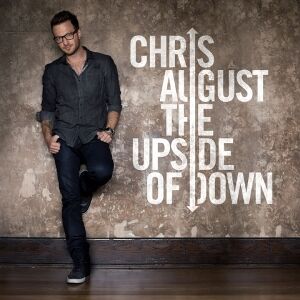 Dubbed by some as one of the best new singer/songwriters just a couple years ago,
Chris August
took the industry by storm with the smash success that was 2010's "Starry Night." With the rest of
No Far Away
boasting a similar quality of feel-good melodies, Chris August took off on Fervent Records, and the endearing factor to No Far Away certainly had plenty of potential attached for future hopes. But with radio success comes the need to follow up quickly, and The Upside of Down is his answer.
The gospel-style inklings of "Amen" and the Bee Gees-esque "Let the Music Play" showcase a couple new areas of experimentation, but most of
The Upside of Down
sticks to one general sound; majoring far more on the softer side of the spectrum, those who especially enjoyed August's softer side with songs like "Want to Be Real" and "Winter Time" will especially appreciate
The Upside of Down's
methods, even if listeners are treated mostly to pianos and acoustic guitars without much else (save for some light percussion to add radio-ready potential). While the title track and the preceding single "Center Of It" seem to give the impression of a regularly upbeat sophomore record in line with expectations, things slow down considerably after track two and rarely ever pick up. The end result is an unfortunately tiring and unexciting one, and while August's voice lends itself quite well to his sound as believable and caring, it doesn't save the overall draining effect these fourteen tracks have.
Another major difference here not present in
No Far Away
is the lack of inventive fervor in the lyrical substance. More and more radio pop artists keep falling into this hole, and August seems to be the latest; choosing to leave very little to the imagination, each song has very little to offer beyond its face value, even if that said value is at least praiseworthy. "Restore," for example, is meant to be a heartfelt reflection on the eroding state of commitment in marriage, but nothing about the song inquires further or gives the listener anything to think about besides just listening to August state the facts ("nobody's growing old together/we've made it easy just to quit/love has become a negative percentage/why do we bother to commit?"). Without discrediting the timeliness of the song's theme, the problem is not that these facts he sings are false, but that they aren't relayed in the song in any artistic way. "This Side of Heaven" similarly lists off issues Christians can get needlessly worked up over, "A Little More Jesus" tells of the never-ceasing need to become more like Christ in our everyday living, and other tracks besides these follow the same formula: August telling it like it is, but without any musical interest or compelling wordplay to strengthen the overall effect.
It could be reasonably argued that
The Upside of Down
is meant to be a more convicting and intimate release to make the listener apply lessons to their own spiritual walk, and that was undoubtedly the intention all along. Instead, however, the listener too often feels nagged and even lectured with a bland musical landscape as a backdrop, and with a few somewhat exceptional tracks, this leads to a very low longterm enjoyment or replay value. Chris August is a more talented songwriter and musician than
The Upside of Down
lets him show, and hopefully we'll see the more lively, and artistically excellent, third effort on the horizon.
Center Of It (3:04)
The Upside Of Down (3:46)
Amen (4:51)
This Side Of Heaven (2:58)
Restore (4:00)
Let There Be Light (3:38)
I Believe (3:47)
1989 (3:53)
Unashamed Of You (3:20)
A Little More Jesus (4:07)
Let The Music Play (3:45)
Water Into Wine (4:12)
Meant To Be (3:44)
Truth Is Still True (3:44)
---
Used with permission -
www.jesusfreakhideout.com